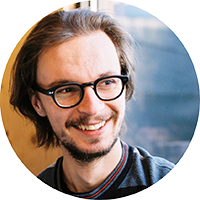 Hi! I'm an experienced developer based in Bucharest, Romania. I've been working with various technologies in the past, but weapons of choice at the moment are ReactJS, React Native and NodeJS.
After I graduated, I've started my developer journey in an medium sized outsourcing company, where I've been trained to work with BI SAS solutions, but my innate curiosity and my wish to be a programmer led me to work on a Python web scrapping & text analytics POC.
After 1 year spent there, I met an awesome guy who happened to be the CTO of a tech startup and in the next months I signed up for a "jack of all trades" position in that startup. Fortunately, the startup raised a seed investment and I resigned my first job to be full time in the startup. In the next 1.5 years I got the chance to work in a dynamic environment with lots of awesome technologies like Android, PHP, Linux, C, Redis, MySql, Kamailio, Javascript and Go.
The startup business model proved unefficient, unfortunately and I switched to working as a freelancer in January 2017 and one of my main goals was to reduce the number of technologies I work with and to become better. I chose Javascript - it was more of a gut feeling and I liked the community. That's how I started working with ReactJS, React Native and NodeJS, and I continue doing it to this day.
In the summer of 2017 I joined the NGO Code4Romania, where we try to solve societal issues.
My core fundamentals:
understand the problem first
keep it simple, stupid (KISS)
don't reinvent the wheel
What I've been up to lately:
working as a freelancer
volunteering in Code4Romania, where we create open source digital tools for solving societal challenges. I've been part of the team which finished this project